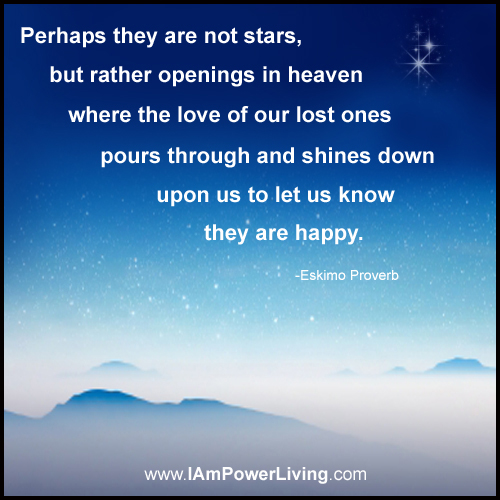 "Perhaps they are not stars, but rather openings in heaven where the love of our lost ones pours through and shines down upon us to let us know they are happy."
-Eskimo Proverb
This quote is featured in A Dose of Power Living. Listen to/read message.
Quote card designed by Teresa Kay-Aba Kennedy.
ADDITIONAL INSPIRATION: Go to our Quote Cards, Postcards, Mini-Escapes, and The Power of… column. Also, check out Power Living TV and The Power List of powerful books, movies and DVDs.
PRODUCTS & COACHING: For more, check out Power Living books, CDs and more. Need help reaching your health & wellness goals, clarifying your purpose or taking your work/life to the next level? Find out about our coaching services.
Image: photostock / FreeDigitalPhotos.net
Comments