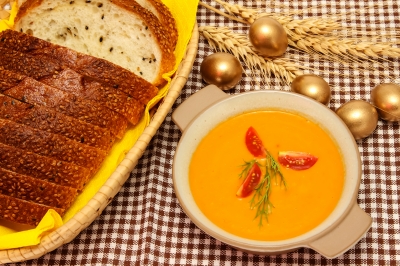 Carrot Ginger Soup is one of my absolute favorite soups in Fall and Winter. It is packed with vitamin A and beta-carotene from the carrots which help to protect eyesight. It also gives a shot of vitamin C and iron – the vitamin C allows you to better absorb the iron. Lastly, the ginger is good for digestion and has wonderful anti-inflammatory properties. Try out this vegan recipe below which has no cream. It's from my Seven-Day PWR Detox book:
CARROT GINGER SOUP
Ingredients: (serves 4 to 6)
1 Tablespoon extra virgin olive oil
1 yellow onion, sliced
2 teaspoons ground cumin seed
1 teaspoon ground coriander seed
1 Tablespoon grated fresh ginger
Pinch of cayenne pepper
6 cups carrots (2 lbs.), thinly sliced
1 large sweet potato, thinly sliced
1/4 cup orange juice
5-6 cups of filtered water or vegetable stock
course sea salt and ground pepper to taste
Directions:
1. Heat the oil in a heavy soup pot.
2. Add onion and a pinch of salt. Cook over medium heat for 5 minutes.
3. Add the garlic, cumin, coriander, ginger and cayenne. Cook for 8 to 10 minutes, until onions are very soft. Add a little water if it sticks to the pan.
4. Add the carrots, sweet potato, 1 teaspoon salt and 5 cups of water or stock. Bring to a boil. Reduce the heat to medium and simmer until the carrots are very tender, about 20 minutes.
5. Puree the soup in a blender until smooth using extra water if necessary.
6. Return to the pot. Add the orange juice and season to taste with salt, pepper and cayenne.
7. Thin with more water until it reaches the desired consistency.
8. Ladle soup into bowls and garnish with parsley or diced green onions, if desired.
TAKE CONTROL OF YOUR HEALTH: If you want to detoxify your body and get a jumpstart to a healthier life, read the Seven-Day PWR Detox book. If you need help reaching your goals, sign up for a free consultative interview and learn more about our wellness coaching.
Contributed by Teresa Kay-Aba Kennedy, Ph.D., MBA. Part of the Power Living® Empowerment Series.
Comments