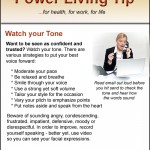 POWER LIVING® TIP: Want to be seen as confident and trusted? Watch your tone. There are various strategies to put your best voice forward.
* Moderate your pace
* Be relaxed and breathe
* Smile through in your voice
* Use a strong yet soft volume
* Tailor your style for the occasion
* Vary your pitch to emphasize points
* Put notes aside and speak from the heart
Beware of sounding angry, condescending, frustrated, impatient, defensive, moody or disrespectful. In order to improve, record yourself speaking – better yet, use video so you can see your facial expressions.
Extra Tip: Read email out loud before you hit send to check the tone and hear how the words sound.