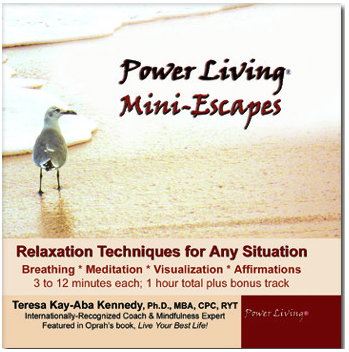 Power Living Mini-Escapes: Relaxation Techniques For Any Situation is designed for busy people. Whether you are on a crowded train, in a doctor's office, at home or at work, this guided audio program will calm the body and mind. It's 60 minutes of relaxation delivered in mini-bites:
1. Introduction (2:46)
2. Breath Awareness (3:22)
3. Transformational Breath (5:57)
4. Deep Three-Part Breathing (6:03)
5. Body Scan Relaxation (10:52)
6. Visualization (11:53)
7. Meditation (10:21)
8. Affirmations (6:24)
9. Soothing Sounds (10:05)
The underlying music blends a range of water and chimes with a slow tempo to synch with your heartbeat. If you're having trouble sleeping, pop the last track in! To help you move into a new season with fortitude, we're offering 20% off the audio CD. At checkout, use the code RELAX2018. Expires on September 30, 2018.
Comments