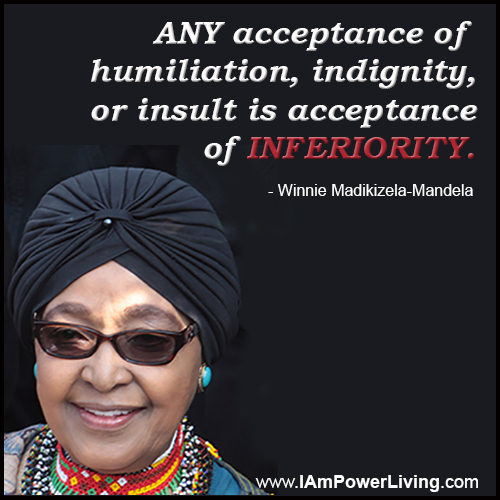 "Any acceptance of humiliation, indignity, or insult is acceptance of inferiority."
- Winnie Madikizela-Mandela
This quote is featured in A Dose of Power Living. Listen to/read message.
Quote card designed by Teresa Kay-Aba Kennedy.
See more quote cards in the African Diaspora Quote Card Gallery and the Nelson Mandela Quote Card Gallery. Also read 10 Qualities of Greatness Inspired by Nelson Mandela and Nelson Mandela's Lesson on Love.
ADDITIONAL INSPIRATION: Go to our Quote Cards, Postcards, Mini-Escapes, and The Power of… column. Also, check out Power Living TV and The Power List of powerful books, movies and DVDs.
PRODUCTS & COACHING: Check out www.PowerLivingMedia.com for our products. Need help reaching your health & wellness goals, clarifying your purpose or taking your work/life to the next level? Find out about our coaching services.
Comments