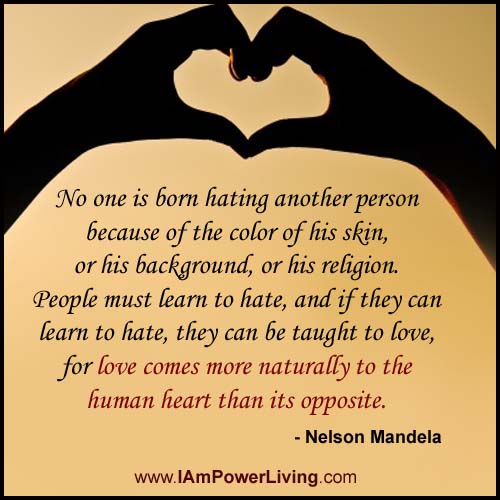 "No one is born hating another person because of the color of his skin,
or his background, or his religion. People must learn to hate, and
if they can learn to hate, they can be taught to love,
for love comes more naturally to the human heart than its opposite."
-Nelson Mandela
Contributed by Teresa Kay-Aba Kennedy, Ph.D., MBA.
View Nelson Mandela Quote Card Gallery.
Additional quotes from Nelson Mandela.
ADDITIONAL CONTENT: Check out articles and tips on Healthy Living and Work & Life. For inspiration, go to our Quote Cards, Affirmations, Impressions, Postcards, and The Power of… column. Also, check out Power Living TV and The Power List of powerful books, movies and DVDs.
PRODUCTS & COACHING: For more, check out Power Living books, CDs and more. Need help reaching your health & wellness goals, clarifying your purpose or taking your work/life to the next level? Find out about our coaching services.
Image Credit: photostock / FreeDigitalPhotos.net
Comments