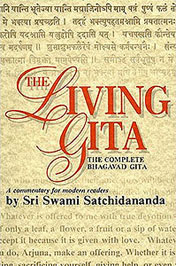 The Living Gita: The Complete Bhagavad Gita, by Sri Swami Satchidananda
Part of the epic poem of the Mahabharata, the Bhagavad Gita is a classic scripture of ancient India. Translated as "Song of God," it offers a great story which prompts you to think about your own inner guru. I go back to it time and time again for inspiration and insight.
This version has commentary from my yoga guru, Sri Swami Satchidananda, founder of Integral Yoga. He presents it with his very perceptive and encouraging voice. Recently, I found another version in my family library. It was a copy from my other guru – my dad. Apparently, he had been reading the Gita years ago! As wise as he was, I would certainly recommend this read.
Contributed by Teresa Kay-Aba Kennedy, Ph.D., MBA.
BUY THE BOOK:
ADDITIONAL CONTENT: Check out articles and tips on Healthy Living and Work & Life. For inspiration, go to our Quote Cards, Postcards, Mini-Escapes, and The Power of… column. Also, check out Power Living TV and The Power List of powerful books, movies and DVDs.
PRODUCTS & COACHING: Check out Dr. Terri Kennedy's Power Living books, CDs and more. Need help reaching your health & wellness goals, clarifying your purpose or taking your work/life to the next level? Find out about our coaching services.
ADD YOUR VOICE: Have you read this book? What did you think? Post a comment.
Comments