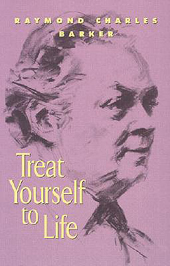 BOOK: Treat Yourself to Life, by Raymond Charles Barker
This little book was one of the classic texts in my mom's library (I actually still have her original copy). It explains how, through spiritual mind treatment, you can deliberately impress the subconscious with a creative idea so that it can manifest.
Dr. Barker opened the First Church of Religious Science in New York City in 1946, was President of the International New Thought Alliance and a well-known minister, author and teacher.
If you really want to understand the law of attraction, this book is a good place to start. Many of the new ones out today are based on it.
Contributed by Teresa Kay-Aba Kennedy, Ph.D., MBA.
BUY THE BOOK:
ADDITIONAL CONTENT: Check out articles and tips on Healthy Living and Work & Life. For inspiration, go to our Quote Cards, Postcards, Mini-Escapes, and The Power of… column. Also, check out Power Living TV and The Power List of powerful books, movies and DVDs.
PRODUCTS & COACHING: Check out Dr. Terri Kennedy's Power Living books, CDs and more. Need help reaching your health & wellness goals, clarifying your purpose or taking your work/life to the next level? Find out about our coaching services.
ADD YOUR VOICE: Have you read this book? What did you think? Post a comment.
Comments