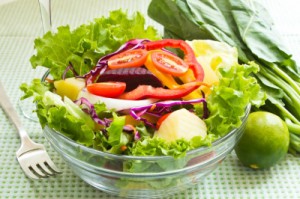 Salads capture the essence of summer. Visit a farmer's market or produce stand and toss up this Italian Leafy Green Salad. Test out the grapeseed oil. It's packed with antioxidants and is high in vitamin E, C and beta-carotene. Try it out:
ITALIAN LEAFY GREEN SALAD
Ingredients: (serves 4 – 6)
2 cups romaine lettuce, torn, washed and dried
1 cup escarole, torn
1 cup radicchio, torn
1 cup red leaf lettuce, torn
1/4 cup green onions/scallions, chopped
1/2 red bell pepper, sliced in rings
1/2 green bell pepper, sliced in rings
2 Tablespoons fresh basil, chopped
12 cherry tomatoes
1/4 cup grapeseed or olive oil
1/4 cup balsamic vinegar
2 Tablespoons fresh lemon juice
salt and pepper to taste
Directions:
1. In a large bowl, combine the romaine, escarole, radicchio, red leaf, green onions/scallions, red pepper, green pepper and cherry tomatoes.
2. Whisk together the grapeseed or olive oil, basil, vinegar, lemon juice and salt and pepper.
3. Pour dressing over salad and serve immediately.
TAKE CONTROL OF YOUR HEALTH: If you want to detoxify your body and get a jumpstart to a healthier life, read the Seven Day-PWR Detox book. If you need help reaching your goals, sign up for a free consultative interview and learn more about our wellness coaching.
Contributed by Teresa Kay-Aba Kennedy, Ph.D., MBA. Part of the Power Living® Empowerment Series.
Comments