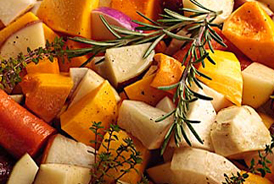 Root vegetables, like carrots and parsnips, are very grounding and filling. One of the best fall and winter treats is a plate of Roasted Root Vegetables. Try out this recipe below:
ROASTED ROOT VEGETABLES
Ingredients: (serves 4)
1 large or 2 small parsnips
1 large or 2 small rutabagas
1 medium yellow onion
1 medium carrot
2 cloves of garlic, minced
2 Tablespoons olive oil
1 teaspoon sea salt and freshly ground black pepper
1 Tablespoon fresh rosemary, chopped fine
Directions:
1. Preheat the oven to 375 degrees.
2. Scrub root vegetables and peel onion.
3. Cut all the vegetables into ½" pieces.
4. Toss the vegetables with the oil, salt, rosemary and a few turns of pepper.
5. Place the mix onto a baking sheet and bake for 25 minutes.
6. When the vegetables are soft turn the heat up to 425 degrees for an additional 5 – 10 minutes or until the vegetables have a golden color.
You can serve the Roasted Root Vegetables as a snack with some Savory Tahini Sauce, or as a side dish to your main meal. Use the same instructions about to make Roasted Sweet Potato Fries. Let us know what you think!
TAKE CONTROL OF YOUR HEALTH: If you want to detoxify your body and get a jumpstart to a healthier life, read the Seven Day-PWR Detox book. If you need help reaching your goals, sign up for a free consultative interview and learn more about our wellness coaching.
Contributed by Teresa Kay-Aba Kennedy, Ph.D., MBA. Part of the Power Living® Empowerment Series.
Comments